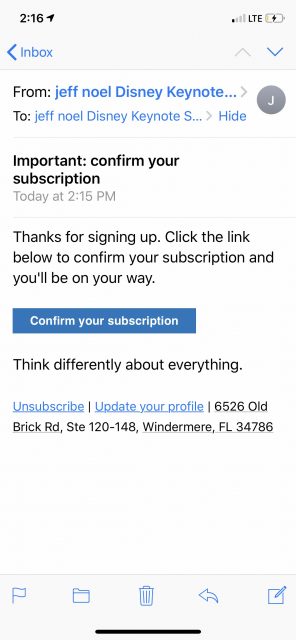 .think .differently about everything
Signed up for email subscription to the Podcast, If Disney Ran Your Life.
We (Jody Maberry and me) have intentionally held back on promoting the podcast email sign up.
Why?
After listening to the first episode, i knew immediately i wanted to practice with more episodes before saying, "Hey, if you're interested in a Disney business podcast that can help you .think .differently about everything in your personal life, well, today is your lucky day…if you are curious about how to apply Disney business insights to your personal life, you can find Jeff Noel's podcast on iTunes, Stitcher, and InTune Radio.
Want to be automatically reminded when a new episode is published?
We've made it convenient for you to sign up via email to receive the announcement.
And we'll provide you a quick link to take you directly to the new, insightful, exciting, motivating, and inspiring content that Jeff Noel so generously shares with a willing audience.
• • • • •
This website is about our WORK. To ponder today's post about our HQ, click here.
If you want to stay on this site and read more posts from this Blog, click here.