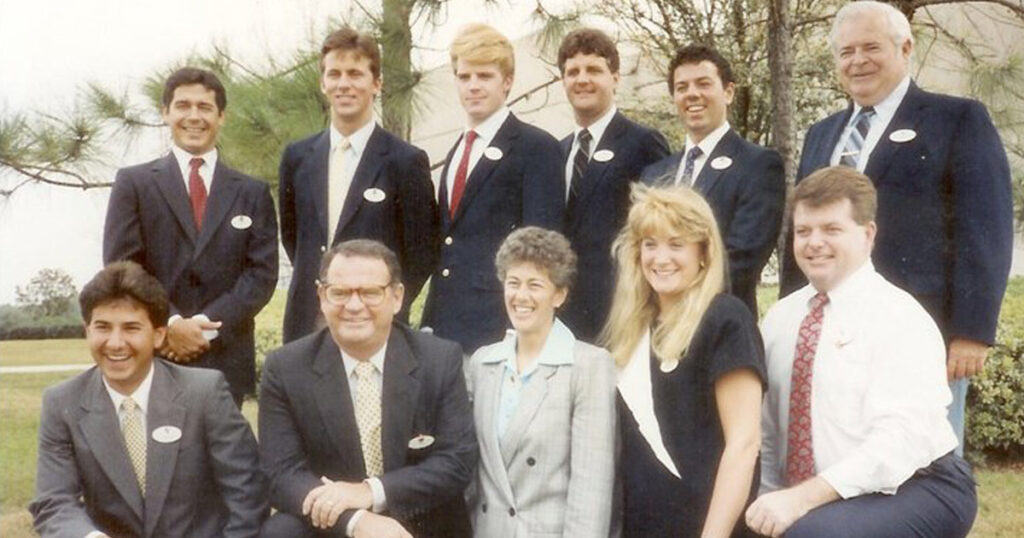 Does your organization have Day One new-hire orientation to share your Company's origin story and Customer Service architecture?
Pictured here is the 1988 Disney Traditions Team…i'm the one standing far left, eyes closed. Eleven front-line employees (Cast Members) selected from hundreds of applicants for one-year to "Cross-U" (cross-utilization). They trained every new employee on Day One at Walt Disney World in 1988. Once or twice a month, each of them was pulled from their normal front-line role to teach "Disney Traditions".
Have you ever thought about the power (and credibility) of having your Day One trainers be people who were on the front line yesterday and after your class, they go back to the front line tomorrow? No theory here. Real life stories from people living it every day.
The intent is to select a new team every year to meet the forecasted hiring numbers. The program has matured and flexed as the years challenge in predictable and unpredictable ways.
It dawned on me after all these years… my signature Disney Customer Service Keynote contains the "Disney Traditions" Day One DNA for Disney's World-Class, time-tested Customer Service architecture.
What felt like content built from a lifetime of learning, doing, and teaching (in operations and at Disney Institute) is actually the simple yet powerful Disney DNA from Day One…operationalized from a lifetime of serving Guests and Cast Members.
• • • • •
This website is about our WORK. To ponder today's post about our HOME, click here.