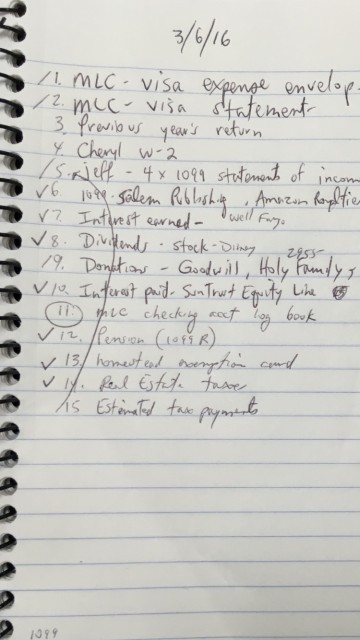 Turning in our 2015 taxes after this morning's routine dental visit.
Turning tax papers in on March 8 is a big improvement from last year.
This year re-reminded me to polish up my personal bookkeeping system to make it ridiculous easy to plug and play. Looking to turn everything in next year by February 1.
Basically, as soon as Cheryl's W-2 is available from Disney.
__________
On April Fool's Day 2009, jeff noel began writing five daily, differently-themed blogs (on five different sites). It was to be a 100-day self-imposed "writer's bootcamp", in preparation for writing his first book. He hasn't missed a single day since.
This website is about our career health. To leave this site to read today's post on my home health website, click here.